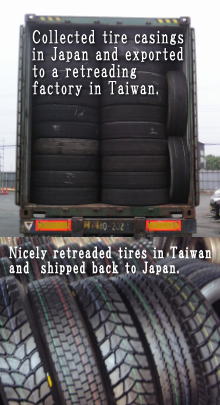 With a long experience of supplying tire casings to the world, we proudly present here a new project made in collaboration with our long business partner, a tire retreading factory in Taiwan, making use the best of both of us in each of the business field.
As introduced above, we export high quality casings from Japan to our partner in Taiwan and the retreading factory in Taiwan retreads the exported tire casings on our behalf.
The retreader ships back the retreaded tires to Japan, and we supply retreaded tires for our customers in Japan. In fact, we an also make a direct shipment from Taiwan to your country.
The tire retreading factory in Taiwan used to be an authorized Michelin retreading factory, and thus, they know A to Z of tire retreading. The factory has modernized retreading machines from Italy and Germany, and quality control has strictly been enforced and thus, the quality is stable and trusted by our customers.
As a result, we control the supply side(tire casings), making sure of the quality, then, our partner in Taiwan retreads the casings for us. Hence, each of us makes use of the best of the business field, achieving a great synergism, and supply high quality retreaded tires with competitive prices for our customers. 
At this stage, we concentrate on 11R22.5 for the retreaded tires for dump truck application. Also, we can supply 275/80R22.5, 295/80R22.5, 12R22.5 and 315/80R22.5.
Thus, if you wish to try our retreaded tires, we are willing to quote you the best prices for you.